7 Smart Ways to Send e-Statement to Your Customers
Banks and financial institutions are the backbone of our economy. They are linked to both the common man and the business tycoons. We use their services almost every day for our purchases, balance enquiries, through credit/debit transactions, fund transfer, loans, deposits, investments and so on.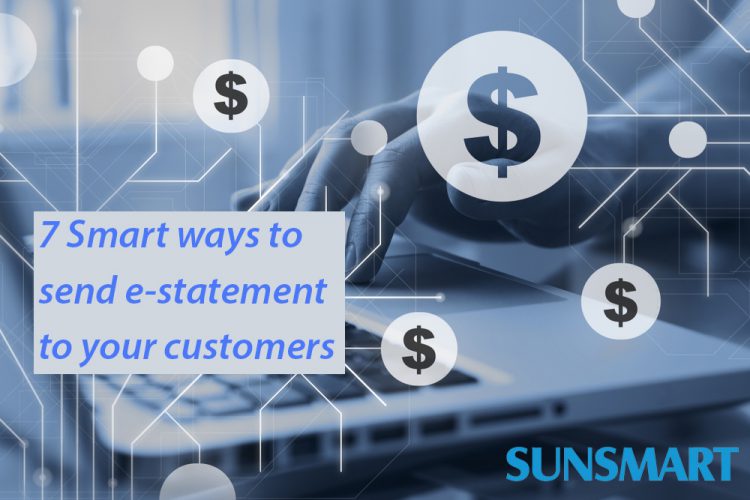 Even a common man holds more than one relationship with the bank.
Addressing the needs of the customers in the most effective way gives the winning edge for the banks and the financial institutions.
Customers and bank interaction happens over phone, emails, walk-ins and through sharing of monthly statements etc. Offering the best services in their every interaction is the key for success and it also increases customer loyalty with the banks.
The current digital revolution focuses on the convenience of the customers. If a customer looks for any information it has to be readily available to them in a more suitable way.
Customer centric user experience adds value to the service offered and is an important factor to retain your customers.
One such interaction between banks and its customers are the bank statements which are sent to millions of customers ritually by many financial institutions.
Often these statements are sent as documents which will be viewed by customers in their mobile phones (most commonly used) with great difficulty as there will be usually loads of information and it's a strain to the eye.
Moreover with the smart phones in place, these statements do not appear the same in every gadget.
These statements are generally HTML or PDF statements which need to be downloaded (unwanted images too). They are usually sent as a routine and are not very helpful if you are looking for any specific information.
Convenience is the Key:
InstiView: Next generation interactive e-statement
Instiview is an eStatement software engine, more suitable for banks and financial institutions who are involved in the task of sharing statements to the customers.
Conventional banking statements VS interactive e-statement
InstiView data is highly interactive and it is far ahead of the conventional bank statements. The statement shared via InstiView is mobile friendly and are compatible across all devices like mobiles, desktops, tablets and laptops.
All-in-one statement
InstiView e-Statements work like Business Intelligence platforms and provide interactive data offline.
InstiView can generate e-statements, Vouchers, Receipts, Invoices, Records etc., and send them as an email attachment.
These statements can be used for,
Bank a/c statements
Credit Card statements
Telephone / Electricity bills
Mutual Fund statements
Security Stock statements
Dealer/ Tax statements
Monthly bills of service providers and for other similar needs.
Spend Analysis
InstiView statement offers features like videos, images, graphs and charts as a part of the same HTML file without any external attachments. Users can navigate through these menus and can find their spend graphs and other specific details without even logging into their accounts.
Access across all devices
InstiView is built on advanced responsive design and hence they are compatible across all the devices, smartphones, OS etc. Hence they are more convenient for the users as they can interact without flipping devices.
Generate Million statements in few hours
Our SunSmart InstiView is designed to cater to the needs of the large organizations involved in B2C businesses.
InstiView can generate one million statements in 5-6 hours.
It also offers single statement for multiple relationships with search options.
Reduced Image size for faster delivery
InstiView compresses the image size for faster delivery. Campaigns and vouchers can be shared with the customers. It is also a suitable medium for cross sell/ up sell products.
Branding and inbound lead generations are value additions for business.
Integration through advanced connectors
InstiView engine can be integrated to the core systems like CRM, ERP etc. through advanced connectors.
It can also collate data from multiple systems and can publish interactive reports both online and offline.
Instiview eStatement Software can also be made password protected based on the needs of the business.
Share statements Via SMS/email
Instiview statements can be shared via SMS/email. It can also be shared through WhatsApp, bots, Mobile Apps, web or can be customized to as per business needs.
This flexibility makes it more unique compared to the products in the market. The statements provide micro-level information securely without logging into your accounts.
Customers can conveniently view them in their choice of device and social media platforms.
InstiView is certainly a value addition for your business and a convenient medium for your customers.