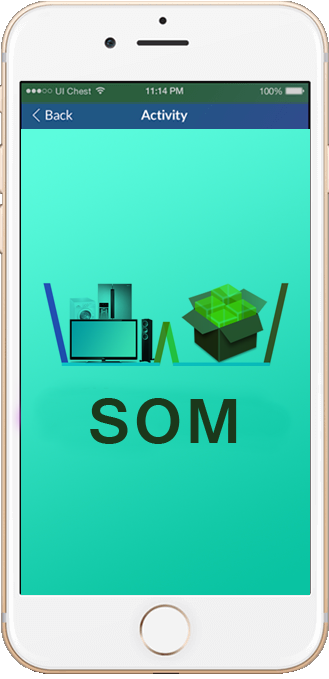 Sales on Mobile
SOM Increase your Sales with Smartness
Quicker * Faster * Easier
SOM an intelligent Sales MobileAPP proactively engages your sales team in reaching the customers instantly, conveniently and update the status in real time. With the end-to-end functionality of SOM every work and requirement of your sales team is managed on their smart phones.
SOM Can be easily integrated with any of your existing CRM application apart from SOM has its own CRM application. Analytical Dashboards displays the KRA / KPI, Target, Key clients, Key actions etc. for a one touch action.
The self-service portal of SOM helps the Sales Team in marking attendance with IMEI & Geo Location tagged data to ensure true attendance. Sales Team can make their Leave Request, Permission Request, OD Request, Asset Request and other operational requests using the ESS.
SOM has API for integration with Omni Channel Lead source like Web, SMS, Data mining etc. Push Notifications helps alerting the user with new lead allocation, follow-up call time, meeting time etc.
Managers at various levels can monitor the progress & status of meetings based on their Product & Geography permissions.
Advantages
Available on Android, IOS, Windows
Supports any Smart Phone, Tablet, iPad, etc
Responsive for large screens
Configurable Data Sheets
OTP authentication for Customer identification
Supports Smart Phones, Tablets, iPads, iPhones
Geo Location Tagging, Camera functionalities
162+ Languages Supported
Supports Android, IOS, Windows
Supports Desktops & Laptops as web portal
Generates Barcode / QR Code for the form
MEAN Stack
Angular.JS
Node.JS
HTML 5.0
Bootstrap
CSS3
IONIC Framework 2.0
MYSQL / MS SQL / Firebase